Improving your performance

Fagro is a leading organisation in the field of interim finance & control. "Improving your performance", this is what characterises our primary philosophy when it comes to providing services to clients and the development of professionals. Fagro specialists are frontrunners in their field of expertise and show assertiveness by making clear decisions, pushing boundaries and always keeping the dialogue open.
About Fagro
Through high-quality, tailor-made knowledge, Fagro helps organisations improve performance. The finance & control professionals at Fagro have a higher professional education (HBO) Bachelor degree, or higher, ranging from 1 to more than 20 years of experience in financial positions. Their expertise is always up-to-date and they continue to better themselves, every day.
245+
finance professionals
28
years of outsourcing and secondment
100+
internal training courses per year
Improving the performance of organisations
Fagro employs more than 245 finance professionals. Whether it is a beginner or experienced specialist, they are all equally passionate about their profession. They are motivated to help organisations to continue to perform better.
Business Control
Professionals who support the management of organisations in a rapidly changing market. Providing relevant information to management and optimising business operations is crucial in this regard.
ACCOUNTING & REPORTING
Professionals who guide organisations in the implementation of the accounting & reporting processes and in the implementation of process improvement and new laws and regulations.
Corporate Governance
Finance professionals who support organisations in setting up and implementing control frameworks, carrying out audits and improving processes (e.g. via Agile, Scrum).
Robotic Process Automation
Robotic Process Automation (RPA) makes it easy to automate non-value-added operations. Our fintech professionals are proficient in UiPath and Blue Prism.
Data Analytics
With Business Intelligence and Data Analytic tools, our fintech professionals are able to link data from different sources, making large amounts of data transparent.
Process Mining
Using Process Mining, our fintech professionals quickly provide insight into the bottlenecks within a process and identify a possible solution.
Working at Fagro
Be happy in your job. That is what counts. How do we do this? By making sure you can develop yourself through training and education. By letting you work on your qualities together with a personal coach. And by giving you challenging and varied assignments with leading organisations in your area. This way you can develop and grow!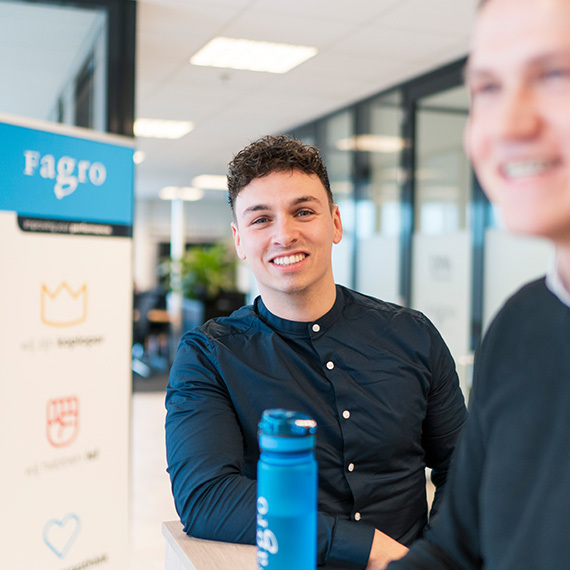 Work satisfaction is the basis
Fagro has been committed to providing the maximum client experience since 1994. Job satisfaction for people who work at Fagro is a key factor in its success. They make the difference for clients. This gives them the right tools to develop and lead the way in their field and enables them to help clients achieve their goals and unburden them in the process.